ABOUT ME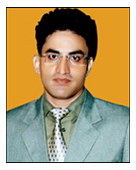 Mustafa Ellahee youngest most famous renowned medical palmist and great celeberity also best Numerologist in India, Pakistan, Asia as well as world. Basically I belong to Mirpurkhas (Sindh). After completion of Education I came to Karachi because I have great interest in Palmistry & Numerology since my childhood. Therefore I read many books about the subject and then decided to take proper education about Medical Palmistry and started online education from Chinese, European and American's Experts. During those days my interest has been also developed in Numerology, after day night struggle and very hard working in both subjects, I became an expert Numerologist and Medical Palmist. It is proud to me that I am the first and youngest Medical Palmist of Pakistan as well as Asia.
Professionally I started my career of Medical Palmistry with the Legend Politician of the world Ex. Prime Minister of Pakistan Benazir Bhutto in 1997 at Islamabad Pakistan.
On Electronic and Print Media my activities goes on continuously since last 18 years including PTV World, PTV Karachi, Lahore & Islamabad Centres. I also conduct above 800 live programs of Pakistani Numerology, World Numerology, Exclusive Numerologist In Pakistan, Pakistani Numerologists, Numerology & Medical Palmisty in the world, Pakistani Palmistry (Exclusive Palmist In Pakistan) Palmistry in Pakistan from different international channels all over the world Exclusively (It is a record) like:

























I am still continuously giving my services about Exclusive Numerology, Palmistry & Medical Palmistry in International Print & Electronic Media.
The list of International Newspapers & Magazines English, Urdu, Sindhi, Showbiz are given below:








































My books about Numerology and Medical Palmistry are in processing and they will launch very soon. You can find them online on my Website.